Posts for: March, 2018
By Cisco Dental
March 30, 2018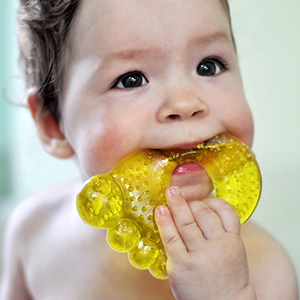 Teething is an important phase in your baby's dental maturity. During the approximate two-year process, they will acquire their first set of teeth.
It can also be an unpleasant two years as each tooth sequentially breaks through the gums. The severity of teething problems differs with each child, but there are common signs: irritability, biting and gnawing, chin rash, drooling or ear rubbing among them. Although for most babies the discomfort isn't that great, the pain can occasionally be a lot for them — and their care-givers — to handle.
Although having a very unhappy infant can be nerve-jangling, there's no real cause for concern health-wise. If, however, they begin to run a fever or experience diarrhea, that could be a sign of something more serious. In those cases, you should see a doctor as soon as possible.
Otherwise, there are some things you can do to make them more comfortable during teething episodes. One thing to remember: cold items for biting or gnawing usually work wonders. So, be sure you have chilled teething rings or pacifiers (but not frozen — the extreme temperature could burn their gums). For older children, an occasional cold food like a popsicle can bring relief.
You can also try massaging the gums with your clean finger, which will help counteract the pressure of an erupting tooth. But avoid rubbing alcohol or aspirin on the gums, and you shouldn't apply numbing agents to children less than two years of age unless advised by your doctor.
If their pain persists, it's permissible to give them a mild pain reliever like the appropriate dosage for their age of baby acetaminophen or ibuprofen. Again, you should give this by mouth and avoid rubbing it on the gums.
By the time they're three, all their primary teeth should be in and teething symptoms should have largely dissipated. In the meantime, make them as comfortable as you can â?? in no time the unpleasantness of teething will pass.
If you would like more information on coping with your child's teething, please contact us or schedule an appointment for a consultation. You can also learn more about this topic by reading the Dear Doctor magazine article "Teething Troubles: How to Help Keep your Baby Comfortable."
By Cisco Dental
March 15, 2018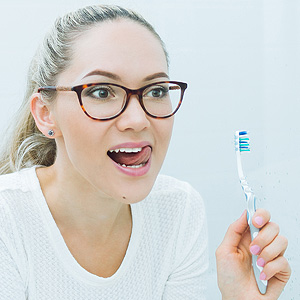 The arrival of spring often serves as inspiration to clean house and create an environment that's bright and fresh. Here at the dental office, we can do the same for your mouth as well! Having clean teeth, healthy gums and fresh breath helps you look and feel your best. Here are some ways we can help you freshen up your smile:
Dental Exam. The best place to start is with a dental exam. Finding and treating tooth decay in its earliest stages will help you avoid more costly and invasive dental treatments later on. It could even save a tooth that might otherwise be lost! Plus, oral cancer screenings are important for everyone—even young, non-smokers. Regular dental exams also give you a chance to bring up any issues you may be concerned about, and to ask for pointers on hygiene.
Professional Cleaning. Having a good oral hygiene routine at home goes a long way towards keeping your mouth healthy. But routine professional cleanings are still very important. Your dental hygienist uses specially designed tools to reach into places where your brush and floss can't, and remove disease-causing dental plaque and tartar. A polishing provides the finishing touch for a squeaky-clean feeling.
Teeth Whitening. Teeth tend to get duller with age; that's why teeth whitening treatments can give you a more youthful appearance. Bleaching your teeth is safest when supervised by a dental professional. We recommend two methods: either a professional treatment at the dental office, or a take-home kit we can provide, which includes custom-fitted bleaching trays. The first way will give you the fastest results, while the second is more economical.
Smile Makeover. Sometimes whitening alone is not enough to fix what's keeping you from flashing a big, bright smile. For example, maybe your teeth aren't straight, or they have been worn down over the years. Perhaps a tooth is chipped or is missing entirely. Or maybe there are multiple cosmetic issues. If this is the case, we can help you figure out what's really bothering you about your teeth and how you can achieve the smile of your dreams.
If you have questions about oral hygiene or cosmetic dentistry, please contact us or schedule a consultation. You can learn more by reading the Dear Doctor magazine article "Daily Oral Hygiene."